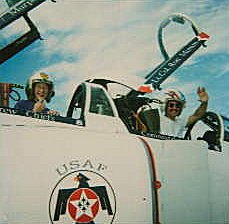 Kick the tires and light the fires!

Lieutenant Mike Dion (right) and son lighting up Thunderbird One...

I'm an FAA Certified Private Pilot, a Lieutenant in the Civil Air Patrol (for which I am also the Finance Officer and on the Finance Committee), a webmaster/computer programmer, an 80's Heavy Metal lead guitarist, a manager for a newspaper company (for which I am also on the HazMat Spill Team), and a husband/father of two.

I (obviously) love aviation and have loved it since childhood. I also enjoy family vacations, and going fishing with my family... yes, even my wife loves fishing (don't get so jealous guys).

I'm also into Hi-Tech gadgets, Sci-Fi and Sci-Fact...UFOlogy, Star Trek, Star Wars...all that "Star" junk. And again, my wife is cool about all of that stuff too (happily married guys...sorry). I've even had my wife out UFO hunting...and loving it! She's great!

My kid's are the best too, both smart as a whip!
My youngest was 2 when he was singing the entire ABC's, and at 3 has a vocabulary that would knock your sock's off! My oldest boy [pictured] is also in the Civil Air Patrol. He took the SAT in middle school, and scored better than 76% of college bound seniors!!!
I love my family, what can I say.


I hope you enjoy this web site that I put together for you and remember...
Pilots are Just PLANE people with a special air about them.